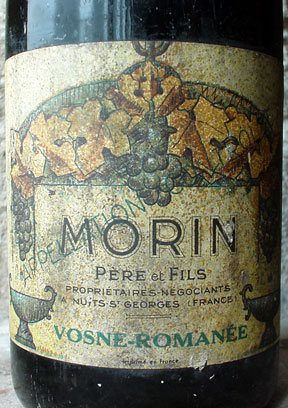 Voici quelques témoignages de nos clients
06/07/2011

Bonjour, Quel bonheur lors de la dégustation d'un Volnay 1971 acheté récemment chez vous. De plus, admirablement accompagné par une pintade. Vraiment une belle bouteille encore pleine de couleur, d'arômes, de goûts, d'équilibre... Merci.
Eric G.

05/07/2011

We visited the wine cellar 3 weeks ago with our 2 guests. To say we were blown away is an under statement. It was the highlight of our trip to Paris and I have been waiting to write this review but words have failed me. It was probably the best day to he had in Paris. Our hosts were convivial, knowledgeable and the food and wine we tasted were stupendous. I cannot recommend it more - a most over used word in the english - amazing but here it is true.
Lynn and Michael H.

24/06/2011

Vendredi 24 juin 2011 "1963, Chambolle Musigny Louis Max" Acheté pour un anniversaire sur les conseils de Lionel Michelin. Dégusté hier soir autour d'une bonne table........... SUPERBE !!! Un SUPERBE cadeau que l'on a partagé en 6. Merci pour nos papilles
David B.

25/05/2011

We were so very excited to find your website tonight! Our wine tasting in your cellar was spectacular. I cannot tell you how much we loved being introduced to your phenomenal wine collection and astounding knowledge. It was definitely a highlight of our trip. I know that we will visit you again...hopefully in the next few years! Cheers to you both!
Braden and Traci N.