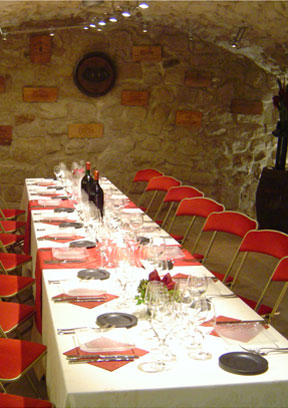 Private wine tastings are held in our cellars, where you are surrounded by illustrious wines. Lionel MICHELIN personally conducts all tastings in French or English. We would be happy to organise a tailor-made tasting for all occasions and budgets– or you can choose one from our program. Intriguing new wines, classic wines and of course older vintages, our speciality, all feature on the list of wines to sample.
Moments around wine: 2 to 3 wines served per tasting accompanied by bread and cheese. Duration: 1-1½ hrs. From 8 to 25 persons .
Wine tasting lunches: 4 wines served per session accompanied by gourmet cold cuts, refined cheeses and pastries. Duration: approx. 2 hrs. From 2 to 20 persons.
Wine tasting nights: 4 to 6 wines served with top-quality gourmet products or gastronomic dishes prepared by our chef for our prestige dinners. Duration: approx 3 hrs. From 8 to 25 persons.
We analyse and comment on each wine served–region, varietal, characteristics and flavour profile. These tastings are suitable for small groups of up to 25 persons. We can also organise tastings for larger groups in the location of your choice in France or abroad. Whether it's a party for friends or a corporate event, our tastings will give your guests a wonderful time !